Oh, how I wish I could take full credit for these delicious, totally vegan chocolate chip (and walnut!) cookies. But alas, they're adapted from Food 52's Secretly Vegan Salted Chocolate Chip Cookies, which are adapted from the cookies from Ovenly bakery in NYC.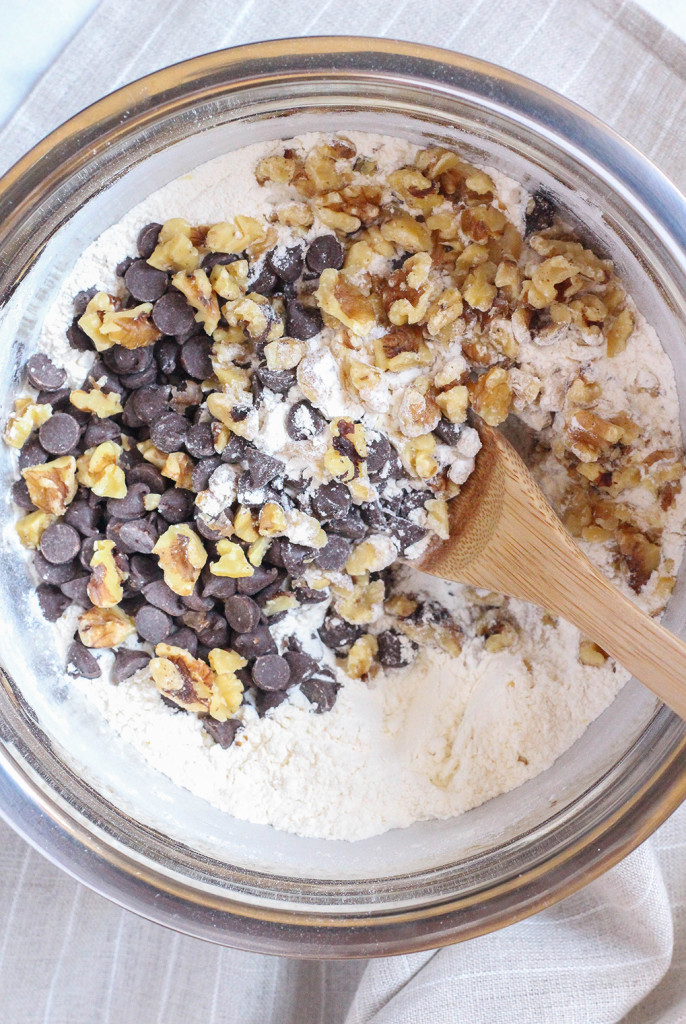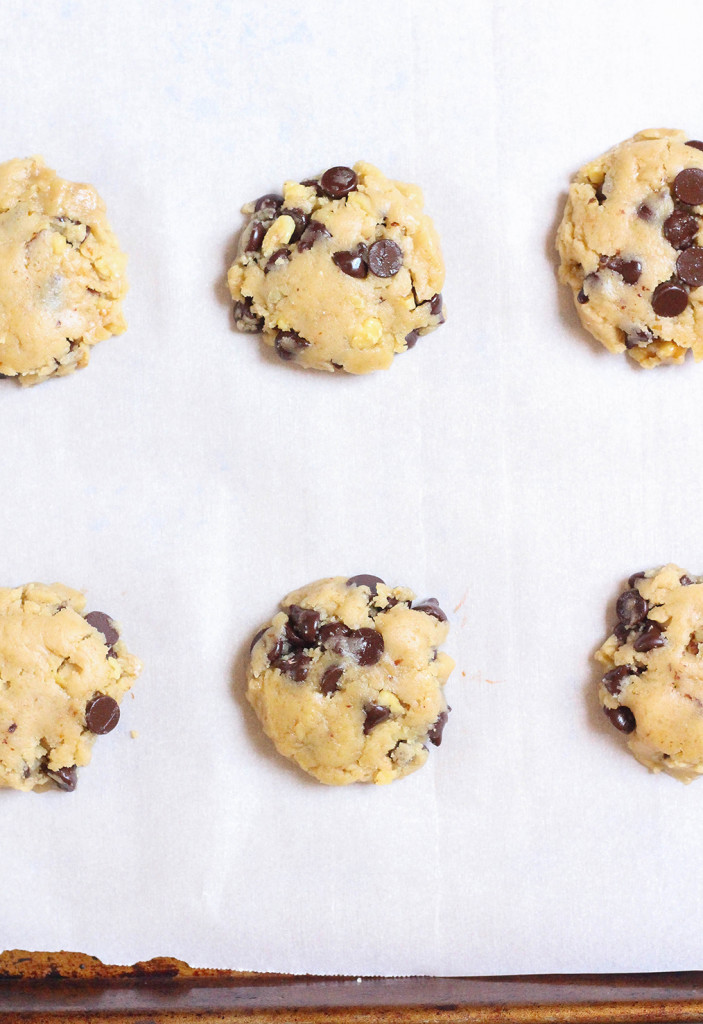 I made a few tweaks to make them what I consider the Ultimate Vegan Chocolate Chip Cookies, adding walnuts, a splash of vanilla extract, upping the salt a bit, and changing the cooking temp. What you might ask makes these the ultimate vegan chocolate chip cookies? The fact that they taste completely non-vegan. Basically, they can go head to head with any of the best regular chocolate chip cookie recipes out there. Butter and eggs, I'm lookin' at you.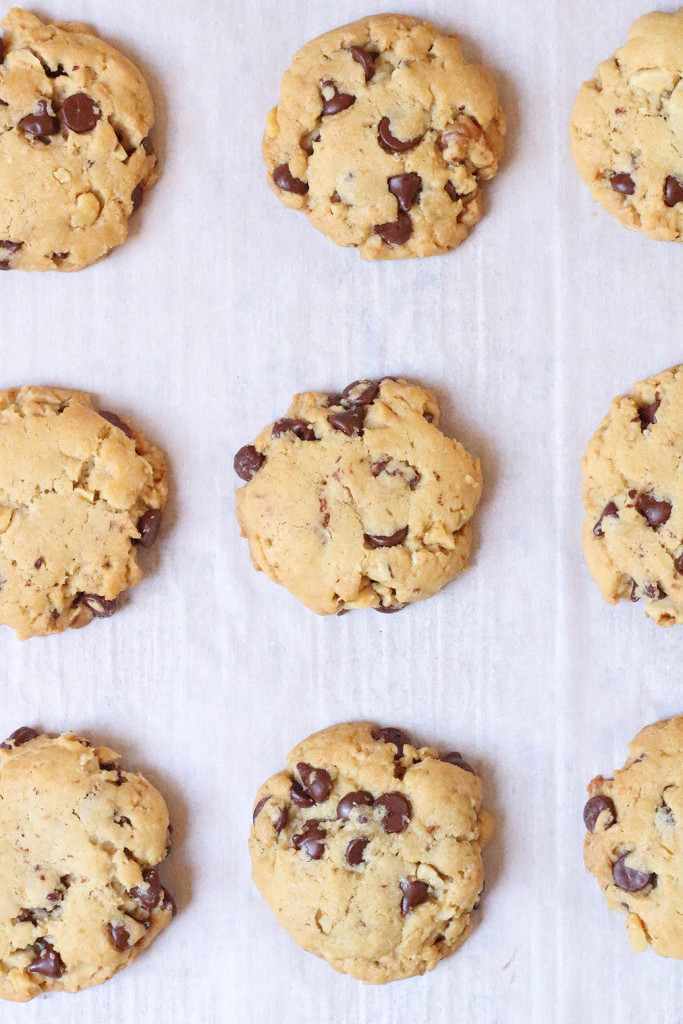 I love that these cookies cook more up than out – thanks to a touch of baking powder – making them crispy on the outside and soft and chewy on the inside. While I've never been to Ovenly in NYC, I'm reminded of the divine cookies from another Big Apple cookie haven, Levain Bakery, every time I take a bite of these babies. I can almost imagine that I'm sitting on a stoop in the Upper Westside, tucking into a bag of ooey gooey chocolatey dreams, when in reality I'm standing over the sink in my kitchen, shoveling cookies into my mouth with abandon.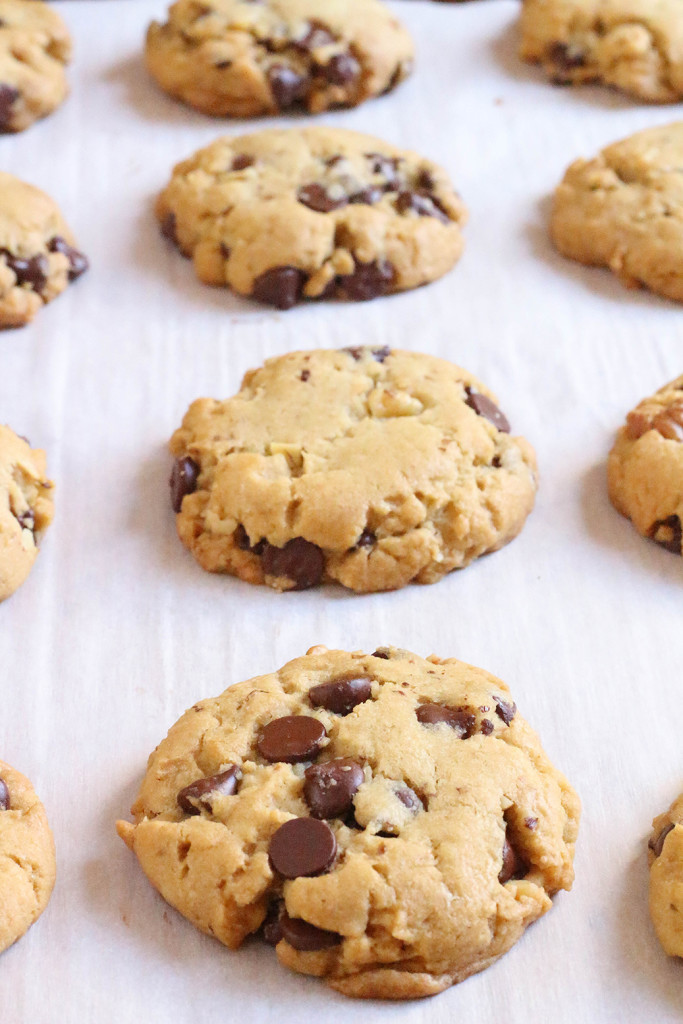 A few things to keep in mind, we're substituting butter for oil and therefore what oil you use becomes very important. The original recipe calls for canola, but I found that even using an organic, non GMO, expeller pressed, blah, blah, blah canola oil lent the cookies a strange aftertaste. Ok, I was the only one who could detect it out of multiple taste testers, but whatever. I recommend trying a sunflower seed or safflower oil. The recipe also calls for mixing the dough and then allowing it to sit in the fridge for 12 – 24 hours, which gives the ingredients time to meld and deepen in flavor. Do not skip this step! I know it's a bummer to have to wait, but you're rewarded with crazy moist cookies. I can attest to the fact that baking these off directly after mixing yields an inferior cookie. Still pretty damn good, but we're going for ultimate here.
Now, what are you waiting for? Make these immediately, and say hello to your new favorite cookie.
Ultimate Vegan Chocolate Chip Cookies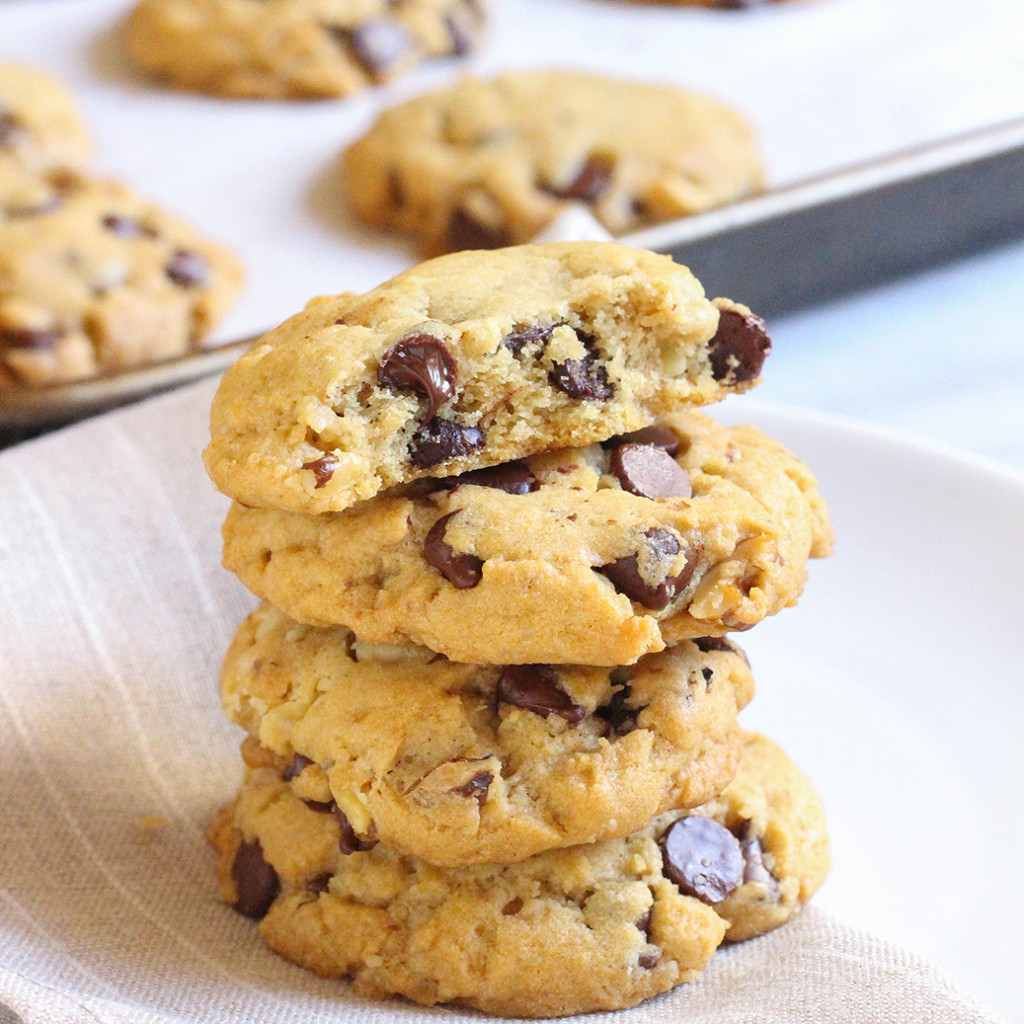 Makes about 2 dozen, 3 inch cookies. Author: The Mostly Vegan Ingredients
2 cups unbleached, all-purpose flour
1 teaspoon baking powder
¾ teaspoon baking soda
1 teaspoon sea salt
1 cup semi-sweet chocolate chips*
¾ cup walnuts, roughly chopped**
½ cup organic cane sugar
½ cup packed brown sugar
½ cup plus 1 tablespoon neutral vegetable oil
¼ cup plus 1 tablespoon water
1 teaspoon vanilla extract
Instructions
In a large bowl, whisk together flour, baking powder, baking soda, and salt. Add the chocolate chips and walnuts to the flour mixture and toss to coat.
In a separate bowl, whisk together the sugars with the oil, water, and vanilla extract until smooth and incorporated.
Add wet ingredients to the flour mixture and stir until well combined and no flour is visible. Cover bowl with plastic wrap and refrigerate the dough for at least 12 hours and up to 48 hours. Do not skip this step.
Preheat the oven to 375 F. Line two rimmed cookie sheets with parchment paper. Remove dough from the refrigerator and use an ice cream scoop or 2 tablespoon measuring spoon to portion dough into small mounds. Lightly press down on the mounds with your palm to slightly flatten.
Bake for 12 to 14 minutes, or until the edges are just golden. Remove from oven and allow to cool on the pan for 2 minutes before removing to a cooling rack. Serve warm or allow to cool completely before storing in an airtight container.
Freezing Dough
To freeze raw cookie dough for future use, follow Steps 1 – 4 but do not press down on balls of dough with your palm. Place cookie sheets in the freezer for 2 hours. Store frozen dough balls in the freezer in a Ziploc bag.
To bake, remove desired number of cookies from freezer and place on a parchment lined cookie sheet while oven preheats. Just before putting in the oven, lightly press down on dough to flatten slightly. Bake as previously directed.
Notes * Check ingredient list to make sure your chocolate chips do not contain milk.
** If you're not using walnuts, add an additional ¼ – ½ cup of chocolate chips